---
Creagorry Cars Identified

We have managed to identify some of the cars from this picture of the opening of the Co-op: Seumas Mhurchaidh's Ford Anglia; Uisdean (Torlum)'s Wolsley; Micheal an t-Hearach's van and the Drimore
Farm Land Rover. If you can identify any of the other vehicles, or if you have any memories of the opening day, please let us know. We are looking to confirm the names of the staff who worked in the Co-op in 1963 when it moved to its present site from Red Bank.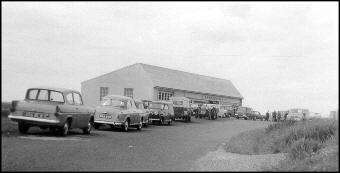 The Creagorry Co-op on its opening day in 1963
---
New Material for Our Archives

Pictures taken by Kenneth MacLeod (Coinneach Dhomhnaill 'ic Choinnich), who was headteacher of Balivanich School during the 1930s have been donated by Ian MacLeod, his son. They show the pupils of that era and events that took place, e.g. Jubilee year. It was common practice in those days for the boys to be taught gardening.

Ian MacLeod is also the source for our correspondence and other documents relating to the campaign for a "Direct link with the mainland", which resulted in the building of the South Ford bridge (Drochaid O'Reagan).
Enough supporting material and photographs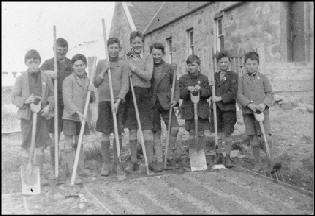 Pupils gardening at Balivanich School, 1930s

---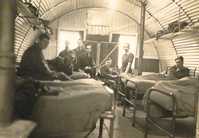 The sick bay at Balivanich, 1941.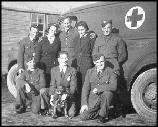 ---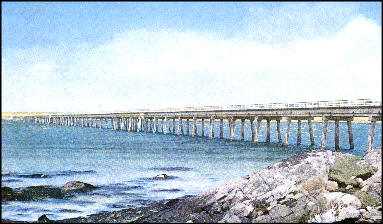 The Sick Bay
The sick bay was established during the construction of the runways to provide medical services to the construction workers as well as the RAAF ground crew, who were present in Benbecula at that time. Dr Mahoney was serving with the RAF. The sick bay was situated near 'Boomtown'. Boomtown was so named because it was the centre of entertainment - pictures and dancing - in bulidings located just inside the current airport road enterance. The photographs were provided by Anna Brown (nee MacLean). Anna and Mary Buchanan are shown in the photo, along with Dr Mahoney (holding Sandy the dog) and other sick bay staff.
Drochaid O'Regan
The South Ford Bridge

Ask anyone from Uist why the bridge over the south ford was built and you will most likely be told that it was because of the need of the RAFduring the second world war. This is not true as the campaign for a link between benbecula and the mainland, which resulted in the bridge being built commenced in earnest in 1933. The bridge was completed during the war. The south ford bridge was the first fixed link between the Uist islands which now has the final link in place 60 years later with the completion of the Eriskay causeway. The exhibition held at Nunton steadings showed through a selection of documents and photographs how this campaign progressed from 1933 to 1938. The work of the committee members and in particular Father O'Regan and Kenneth MacLeod, the headmaster at that time of Balivanich school, shows their dedication to the improvement of the quality of life for the residents of Benbecula.
In the 1930's during the winter season there were only three steamers a week, and sometimes the passengers were waiting for 8 or 9 hours on the pier. The steamers sailed to Malaig and the total journey from benbecula to glasgow could take more than 20 hours. In 1938 Fisher & Tate commenced the contract to build the bridge, and it was finally completed in 1941 by Simms, Son & Cook Ltd