---
Angus MacAulay

Angus MacAulay (Aonghas Sheorais) was born at Pennilodden and emigrated to New Zealand when he was 50 years of age. His father taught him the basics of piping from the age of 10 but he later received lessons from Pipe Major William Lawrie. After the First World War ended, Angus joined the Lovat Scouts as a piper, under Pipe Major William Ross and subsequently, he became a Pipe Major.
In competitions he was hard to beat and records show that in 1925 and in each of the nine succeeding years Angus won the medal for the highest points in all events at the South Uist and Barra games. During this time (1926-1935) he studied piobaireachd with Pipe Major John MacDonald of Inverness and his competition results in the early 1930s regularly included the gold medal at Inverness and Oban.
Angus MacAulay,
Penilodden,Nunton.

In 1946 he moved to London and, prior to moving to New Zealand, he won the Bratach Gorm prize and the Gillies cup for piobaireachd.
On visits home he took firsts again in South Uist and for three years in a row he won the Caledonian White City March, Strathspey and Reel title. He played for the soundtrack of the classic movie "Whisky Galore" and piped at Covent Garden Opera House for Sadlers Wells Ballet.
During his time in New Zealand, he promoted piping and produced many prominent pupils. He retired in 1991 and lived in a house overlooking Whangarei Harbour. He was awarded the MBE for a lifetime's devotion and dedication to the Highland Bagpipe.
---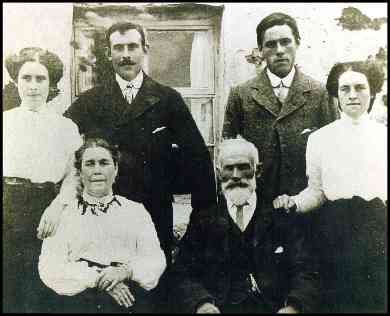 ---
The above picture is a fine example of the type of family photo taken at the beginning of the 20th Century.
This family group shows the MacPhee family from Grimsay Island, Benbecula, and was given to the Comunn Eachdraidh by Joan, widow of Donald. The parents were Iain Griomasach and Mary MacVicar. Angus was killed in 1918 while serving with the Scots Guards and a song was composed in his honour by Mor n' Aonghais. The girls married locally and Isabel on the right was the mother of the Campbell family in Uskevagh: Effie, Iain, Sheila, Catriona (died young), and twins Angus John and Isabel. Kate married Neil Monk at Ard nan Eoin and there were only boys in the family: Donald John, Iain, Angus and Neil. Donald married Joan MacRae from Kyles Flodda and lived in the family home at Grimsay Island. Their family are Iain, Mary, Kate, Angus, Isabel, Mary- Margaret and Effie. Grimsay Island was divided into crofts in 1880 and up to that date islands on the East were used by Liniclate, as some still are to this day. Prior to obtaining crofts the MacPhees would be employed as shepherds on Grimsay thus taking their identification from the island. From the petition which was signed in 1890 for the road to Petersport Pier there are 10 names recorded for Grimsay, including six named MacPhee: Archibald, John, Iain, Malcolm, Donald and Alex.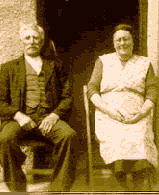 Ruaridh Mac Gilleasbaig Mac Dhomnaill Ruaidh and his wife Mairi Nighean Ruairidh Aonghais Nic Challuim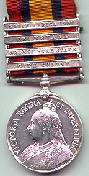 "Action commenced with artillery, mounted infantry and cavalry at 5.30 a.m. Guards on the right, Ninth Brigade on the left,, attacked the possession in widely extended formation at 6.30 a.m., and supported by artillery, found itself in front of the whole of the Boer Force, two large guns, four Krupp guns etc. The Naval Brigade rendered great assistance from the railway. After desperate hard fight which lasted 10 hours, the men without water or food, in a burning sun, made the enemy quit their position.." On a more local level several Benbecula men also fought in this war and featured here are two from Uachdar. Roderick MacIntyre and Angus MacDonald.Angus MacDonald (Aonghas Mac Ruairidh) (1881-1976) born in Uachdar served in Africa and later with the Scots Guards in WWI. He joined the police after the Boer War and the certificate below is from 1907 during his time with the Glasgow 37 Division. Prior to WW1 he lived for a time in Canada (brothers John, Ronald and Archie had emigrated) but returned to Benbecula. Angus was married to Marion MacPherson from Liniclate.
---
The Silver bandings on the medal reads: South Africa 1901 Transvaal Orange Free State Cape Colony
COGADH AFRICA
The Boer War ended 100 years ago in April 1902. This was the first war where the Lovat Scouts, which later feature so much in Uist history, first saw active service. Yeomanry regiments made up of estate workers were formed into volunteer companies. Research from other journals and diaries kept by soldiers during this time show a call for volunteers followed by a training period of one month. It was customary to sign up for one year and then the survivors would return to be replaced by another unit of volunteers. Our members' archives have a few choice documents relating to this historic time. One of these is a translation of a letter found on a Boer soldier's body, dated Ladysmith, Natal, 7.12.1899, after the blowing up of "Long Tom". Long Tom was the gun used by the Boers to besiege Ladysmith. The letter is written to a sister: "It is one month and seven days since we besieged Ladysmith and don't know what will happen further. The Englishmen we see every day walking in the town, and we are bombarding the town every day with our Cannons. They have erected plenty of breastworks outside the town........I think there will be much blood spilt before they surrender." We also have original issues of the "Ladysmith Lyre" a newsletter written by the besieged troops, and from an issue dated 5 December 1899 an official account of the fight at Modder River: ......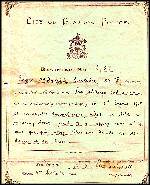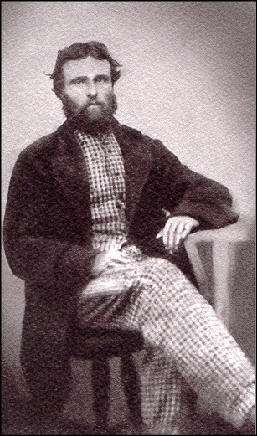 John William Black
John William Black 111, referred to in our history society as "the Texas Judge", from Brownsville, Texas supplied the photograph of his great grandfather John William Black and the following information. John William Black was born in 1832 in Benbecula. He was the son of Donald Alexander Black and Mary Gillis. Donald, his brother Ranald and their families emigrated to Grand Mira, Cape Breton circa 1841 from Uachdar. The photograph of John was taken at the time of his marriage to Mary Fitzgerald. Four of their eight children were born in Nova Scotia where he worked as a carpenter in the wooden ship building trade. The family moved to Boston in the early 1870's and he became a US citizen in 1887. The earliest Black known to the descendants on Benbecula was John Black from Torlum who married Mary Wilson and had 10 children. The Black surname was common in Benbecula in the late 1700's up to the mid 1800's and records show Blacks in Torlum, Balivanich, Griminish and Kyles Flodda. From 1840 whole families with the name Black emigrated to Canada.
Unfortunately the document has not copied very well. It states Angus received 7/6d for.... "zeal and activity. on 13 August 1907 at considerable personal risk he seized and held a runaway horse yoked to a spring van, which was galloping along Alexandra Parade to the danger of the lieges."